KUALA LUMPUR, Dec 7 (Bernama) — Tan Sri Lee Kim Yew, the founder of Country Heights Holdings Berhad (CHHB) and Golden Horse Digital Investment Bank (GHDIB), has joined the Minister of Foreign Affairs, YB Dato' Saifuddin Abdullah on an official visit to Huzhou, China, with the purpose of strengthening the bilateral relationship between both countries, especially to work closer together to recover from the Covid-19 pandemic.
During the visit, a Memorandum of Understanding is signed between GHHS Healthcare, a wholly-owned subsidiary of CHHB, and Sinopharm (Tianjin) Asset Management Co. Ltd, in order to facilitate the digital certification and promote the usage of TCM and Chinese herbs in Malaysia as well as ASEAN regions.
"TCM has been widely used throughout history to strengthen body immune system. The TCM, or the so-called 'eastern' methods, could be used in tandem with medication or the 'western' counterparts, and by complementing each other, could yield excellent results," said Tan Sri Lee Kim Yew.
"China has set a good example to the whole world in successfully curbing the outspread of the Covid-19 pandemic, and TCM could be an effective method through the usage of preventive approaches, especially in a post-pandemic era, in restraining the widespread of various virus variants," added Tan Sri Lee Kim Yew.
Country Heights Holdings Berhad is a property conglomerate in Malaysia founded by Tan Sri Lee Kim Yew that primarily focuses on property development and investment holdings, with subsidiaries involved in diverse industries such as health, hospitality, membership & tourism and education. GHHS Healthcare was initially established as a preventive health screening center and is dedicated towards promoting healthy and unique lifestyles.
Tan Sri Lee Kim Yew also cited the use of blockchain technologies in the digital certification agenda for TCM and Chinese herbs, which not only could enhance the traceability of origin sources but would improve credibility and confidence among end-users.
During the diplomacy trip to China, Tan Sri Lee Kim Yew has also proposed to set up the Digital Economy Corridor and urged Chinese tech-corporates wishing to grow to become global players to make use of Malaysia as their regional or global headquarters. Chinese corporates can fully utilize Malaysia's strong and comprehensive industrial infrastructure as well as the unique multicultural society and multilingual talent pool as a springboard to enter the wider ASEAN and global markets.
Tan Sri Lee Kim Yew is now envisioning the application of blockchain alongside other 4IR technologies such as A.I., Big Data, and Robotic, in shaping a digital future for our upcoming generations. In recent years, through the newly founded Golden Horse Digital Investment Bank, Tan Sri Lee Kim Yew is actively involved in the blockchain environment and is constantly pursuing and exploring the application of new technologies in different areas of our lives, including agriculture, medical, and financial sectors.
The Digital Economy Diplomacy, together with the Cultural Diplomacy initiatives by Minister of Foreign Affairs YB Dato' Saifuddin Abdullah, would promote Malaysia as the central hub for businesses and lifestyles, and attract foreign corporates to invest in our country.
Golden Horse Digital Investment Bank (GHDIB)
Golden Horse Digital Investment Bank Ltd (LL16429) is founded by Tan Sri Lee Kim Yew. It is registered in Labuan International Business Finance Centre and has been granted a Digital Investment Banking license by Labuan Financial Services Authority. The investment bank is currently using blockchain technology, artificial intelligence (AI), big data and other high-end technologies to build a comprehensive digital financial tool, enabling Golden Horse Investment Digital Bank to serve the real economy with a revolutionary and innovative business model.
GHDIB aims to promote the development and utilization of blockchain technology to create an innovative blockchain-based ecosystem, to promote the adoption of blockchain technology and asset digitalization across various business sectors. With core applications including Golden Horse Exchange, Golden Horse Wallet and Golden Horse Chain, GHDIB aims to provide users with enhanced security and transparency on their journey towards a digitalized future.
GHHS Healthcare
GHHS Healthcare is a healthcare subsidiary of Country Heights Holdings Berhad.
A business model that was started as a CSR project, GHHS Healthcare was established in 2001 to put into action the wisdom behind "Prevention is better than cure".  It is the first Preventive Healthcare Concept in Malaysia that offers Western Medical Screening Technology and Integrated Wellness Treatment with Traditional Chinese Medicine; Japanese Wellness & Korean Beauty; Modern European Wellness and German and Swiss Regenerative Medicine.
With professional specialists and highly sophisticated diagnostic equipment, GHHS Healthcare provides 30,000 members with the best care and technology available. GHHS Healthcare has conducted over 18,000 medical screening tests in 2020. Since inception, we have conducted over 150,000 check-ups with over 70,000 health abnormalities detected including cancer resulting in a high members satisfaction rate of above 90%.
GHHS Healthcare is a healthcare subsidiary of Country Heights Holdings Berhad.
To find out more, log onto our website at www.ghhs.com.my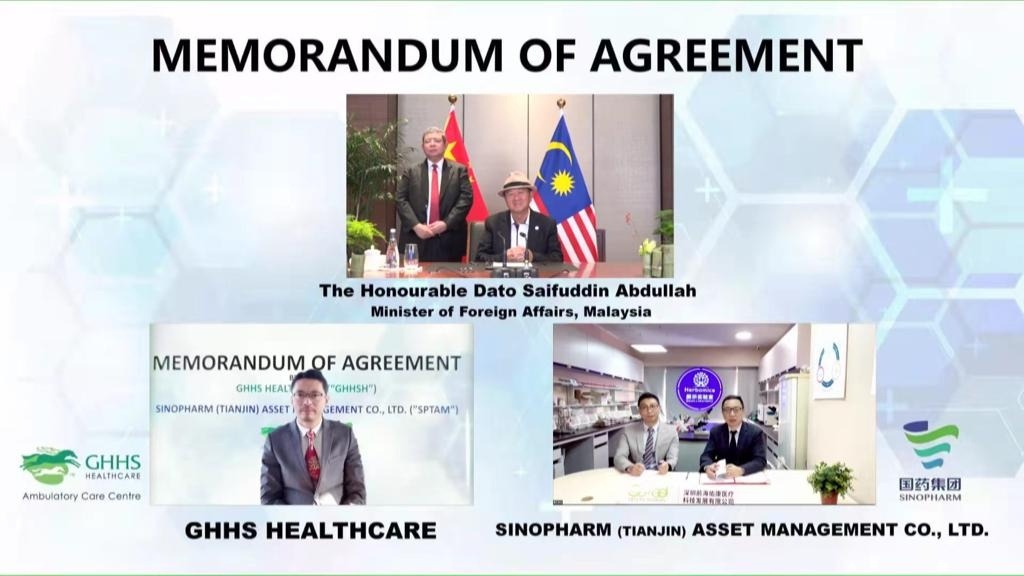 [Source: BERNAMA]